The boa® performance fit lab.
REDEFINING THE LIMITS OF HUMAN PERFORMANCE 
Alongside our brand partners and BOA® Athletes, we push the limits of innovation to design new products using the BOA® Fit System to revolutionize traditional upper shoe construction and improve athlete performance. 
KEY MEASURES OF PERFORMANCE 
BOA® conducts over 400 hours of elite athlete performance testing each year, gathering millions of data points across industries that scientifically prove the impact of fit on performance. 
At BOA®, we understand you shouldn't have to compromise one key benefit over another. On the contrary, one benefit can unlock another performance advantage.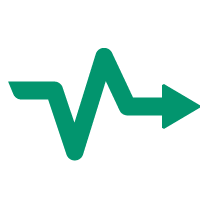 ENDURANCE & HEALTH. 
Staying strong to sustain physical capabilities for extended periods is crucial for any athlete. The BOA® PerformFit™ Wrap reduces wasted energy by improving connectivity to the shoe and efficiency. 
HOW WE TESTED 
Using a force-instrumented treadmill and a metabolic cart to quantify endurance and efficiency and using pressure insoles, inertial measurement units, and heart rate monitors to measure performance on the mountain.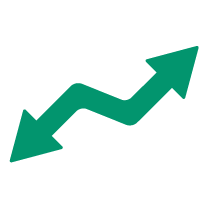 AGILITY & SPEED. 
The BOA® PerformFit™ Wrap enables faster, more effective directional changes through a seamless connection between equipment and athlete, requiring less strain on the body while enhancing performance.   
HOW WE TESTED 
Using optical motion capture and force plates, we use inverse dynamics to calculate how force travels through the athlete's body as they cut, pivot, jump, and perform.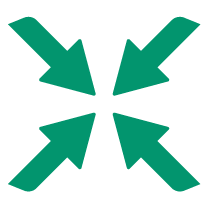 POWER & PRECISION. 
The BOA® PerformFit™ Wrap delivers superior power without compromising precision.    
HOW WE TESTED 
Using force insoles, inertial measurement units, and a dual radar system, we can calculate how athletes produce and transfer their maximum power, whether indoors in our Performance Fit Lab or outdoors on trails, courses, and mountain slopes.  
SCIENTIFICALLY PROVEN BENEFITS 
Through disruptive innovation and strong partnerships, our team of Ph.D. Biomechanists have published their third peer-reviewed white paper proving that athletes wearing the BOA® PerformFit™ Wrap experience proven performance benefits.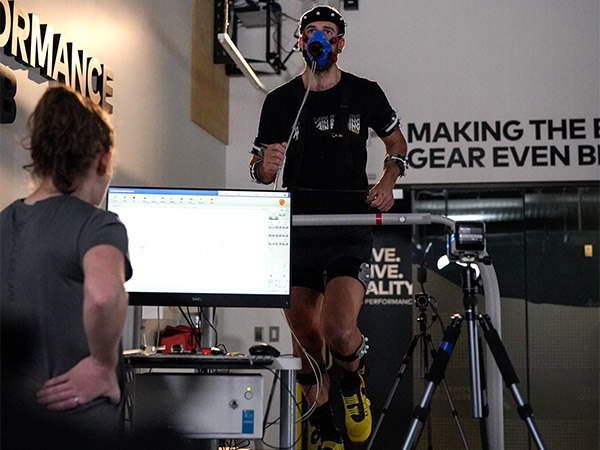 Up to 1.5% faster speed with the same exertion, which for pro-runners, could be the difference between a podium finish or not.   
Up to 7% reduced ankle rotation velocity and increased stability/consistency, resulting in a healthier season for an athlete with improved confidence and stability in the most unstable environments.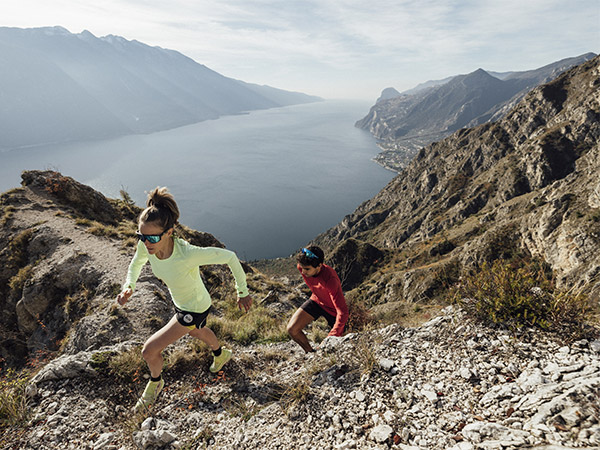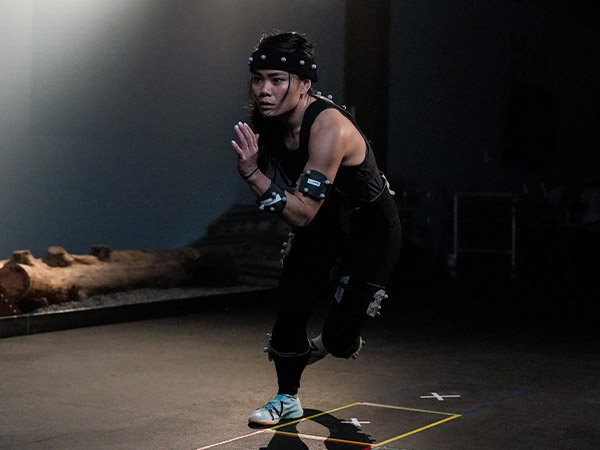 Up to 9% more efficient change of direction, enabling athletes to accelerate and decelerate in a specific direction instantly and effectively.      
Up to 3% improved connection to the midsole & heel hold, optimizing energy and using the shoe more effectively.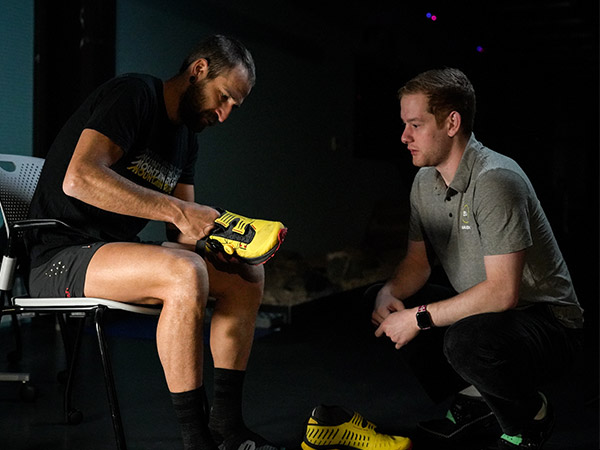 WHAT IS A BOA® PERFORMFIT™ WRAP?  
The micro-adjustable BOA® PerformFit™ Wrap configurations are scientifically proven to improve an athlete's speed, agility, and endurance by wrapping over and conforming to the midfoot, delivering superior heel lock and enhanced connection to the midsole.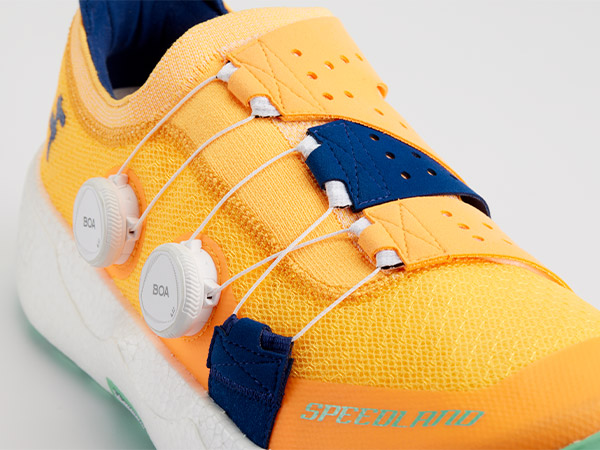 PERFORMANCE FIT INNOVATION 
We transform markets through innovative high-performance fit solutions and scientific validation to continuously redefine the limits of human performance.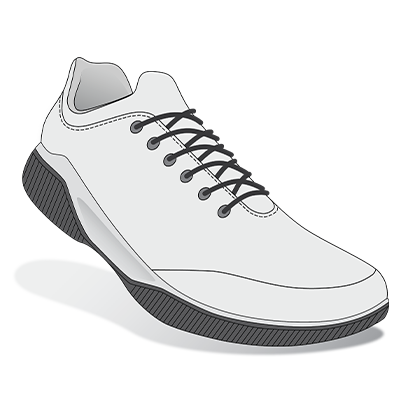 BASIC FIT
Traditional U-throat design with inconsistent areas of pressure incapable of accommodating changes in foot morphology during activity.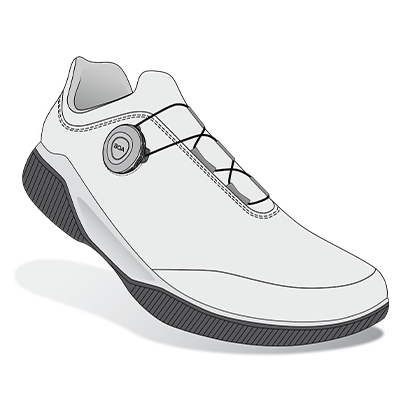 IMPROVED FIT 
Modernized U-throat design with micro-adjustable, uniform fit that modulates pressure where needed during movement.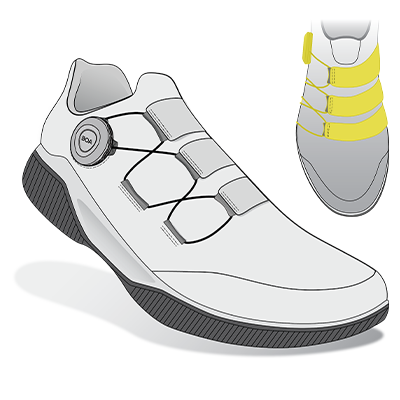 ADVANCED FIT 
Micro-adjustable BOA® PerformFit™ Wrap configurations improve an athlete's speed, agility, and endurance, delivering superior heel lock and enhanced connection to the midsole. 
WHITE PAPERS 
BOA® has a deeply innovative history — from the beginning, we have been pushing the boundaries of fit and human performance. Our goal is to be incredibly rigorous with our scientific testing and research. To that end, our Performance Fit Lab team of Biomechanists conducts over 750 scientific tests each year and uses those learnings to make the best gear even better in partnership with the world's leading brands.  
INSIDE THE LAB.
Inside the walls of BOA®, we work every day to make the best gear even better. The lab team uses intense, hands-on research and biomechanical testing to quantitatively define and measure the impact of the BOA® Fit System on athlete performance.

DAN FEENEY
Senior Director of Partner Product Innovation & Development
With a Ph.D. in Neuromechanics from the University of Colorado Boulder and a background as a former professional triathlete and D1 runner, Dan spends the majority of his time on the trail – either training for his next race, or conducting and developing new in-field testing methods for the Performance Fit Lab.

KATE HARRISON
Ph.D. MANAGER | PERFORMANCE FIT LAB
When she's not participating in sports, Kate studies them. She recently received her Ph.D in Movement Science at Virginia Commonwealth University. As a researcher with the Performance Fit Lab, Kate combines her love for running, formerly competing for West Virginia University and Team Canada, with her data-driven mindset.

Eric Honert
Ph.D. Senior Researcher
Eric earned his Ph.D. from Vanderbilt University while studying foot biomechanics. He then trained in footwear biomechanics and worked with companies from around the world. As Eric pushes the fit of his shoes through climbing and trail running, he wants to better understand how BOA improves fit in-the-lab and in-the-wild.

Adam Luftglass
Materials and Biomechanics engineer
With degrees in Materials Science and Biomechanics, Adam loves to use science to improve athletic equipment. Adam spends most of his time either playing sports or analyzing sports data and combines his passions for engineering and sports to scientifically improve fit in the Performance Fit Lab.

Bethany Kilpatrick
Researcher
With a background in exercise science and biomechanics, Bethany feels in her element contributing to the innovation that the Performance Fit Lab brings. One of her biggest passions is working with athletes and studying their movements to better understand what it means to have a better fit.

Milena Singletary
Researcher
Milena earned her degree in Kinesiology with an emphasis in Biomechanics from Illinois State University. She is intrigued by using technology to understand human movement and how BOA impacts performance. She spends her time outside of the lab enjoying the outdoors and staying active through sports including golf and soccer.