"I'VE DEDICATED MY LIFE TO THESE MOUNTAINS. TRAIL RUNNING PROVIDES THE OPPORTUNITY TO EXPLORE BOTH NATURE AND HUMAN POTENTIAL." 
VIRGINIA PEREZ MESONERO
BOA® Athlete and Professional Trail Runner
2022 SkySnow World Champion 
increased speed and improved stability with the BOA®
PERFORMFIT ™ WRAP. 
WHAT IS A BOA® PERFORMFIT™ WRAP? 
The micro-adjustable BOA® PerformFit™ Wrap configurations are scientifically proven to improve an athlete's speed, agility, and endurance by wrapping over and conforming to the midfoot, delivering superior heel lock, enhanced connection to the midsole, and greater forefoot freedom.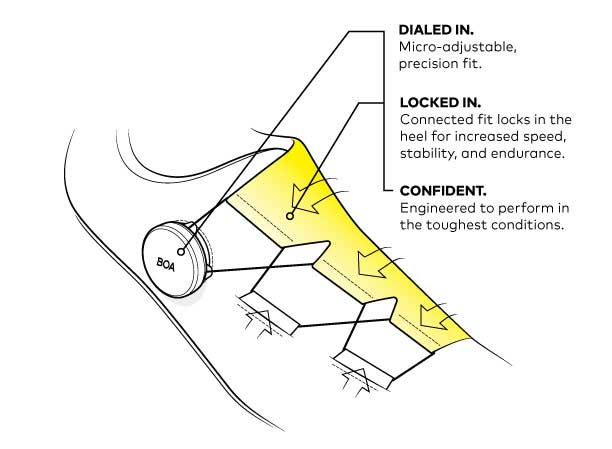 "FINDING MY FLOW ON TECHNICAL AND OFTEN TIMES DANGEROUS TERRAIN— THAT'S WHEN I FEEL MOST DIALED IN."  
FLORIAN GRASEL
BOA® Athlete and Professional Ultra Runner
1st Place Eiger Ultra Trail 250K
ENGINEERED TO PERFORM IN THE TOUGHEST CONDITIONS. 
Every aspect of the BOA® Fit System is engineered to exacting durability standards, designed with precision, and manufactured in a state-of-the-art facility, so we can confidently say: Wherever the trails take you, we won't let you down. In fact, we guarantee it.  
THE BOA® PERFORMANCE FIT LAB. 
Join our team of experts, brand partners, and BOA® Athletes as we revolutionize human performance through groundbreaking advancements with the BOA® Fit System. Experience the future of fit and unlock your peak performance like never before.