The Boa Guarantee
Our products are tested rigorously in the most extreme conditions. But we know that sometimes, things happen. That's why we created The BOA Guarantee - assurance that our dials and laces are covered for the lifetime of the product on which they are featured.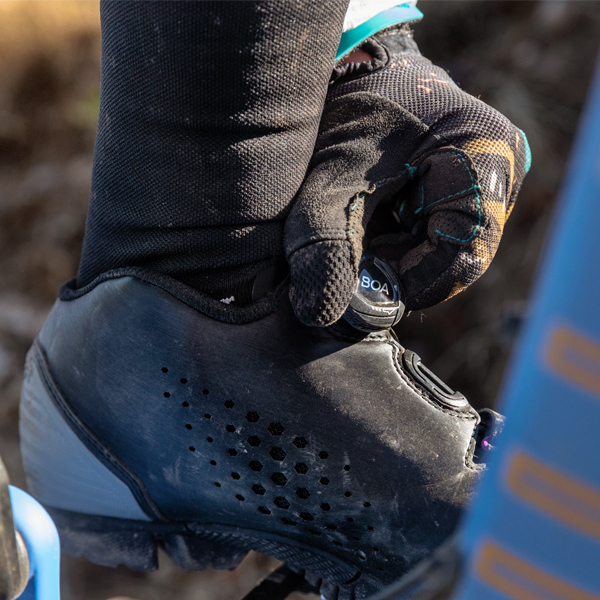 ---
want a backup?
You can buy a spare parts kit compatible with your gear using our Spare Parts Finder.
REPAIR GUIDES
If you already have your parts, use our instructional videos and guides to get you started on the quick and easy repair process.
---
Can I put The BOA Fit System on non-BOA shoes or boots?
Click to open/close
No, BOA is not an aftermarket solution. We work with the world's best brands to integrate the BOA Fit System during product development for optimized fit and performance. Each configuration is carefully chosen and developed with our brand partners to enhance product performance. Our products are tested rigorously and backed by The BOA Guarantee and can be found in all of your favorite brands across different categories. Explore them here.
I am close to the BOA office, can I stop by to warranty my product?

Click to open/close
While our office dogs love visitors, all warranty claims are handled online through our warranty claim tool. Get started here.
Can I replace an old BOA system with an updated one?

Click to open/close
No, our fit systems are not backward compatible. But if you're looking for something new, check out all the latest BOA gear from our brand partners here.
Can I change the color of my BOA dials?
Click to open/close
No, not at the moment. With the exception of a limited selection of white dials in golf applications, we only offer black dials.
What do you cover under The BOA Guarantee? Can you help even if my dog ate the dial?
Click to open/close
The BOA Fit System dials and laces are guaranteed for the lifetime of the product on which they are integrated. So yes, we can help. The only products not covered are helmets and medical, as the safety of the overall product may have been compromised during impact. We recommend contacting the helmet manufacturer or medical practitioner regarding these types of repairs.
Can you fix the part of the system sewn into the shoe?
Click to open/close
The BOA Guarantee covers dials and laces. To redeem a warranty head to our warranty claim tool, and we'll send you a repair kit free of charge. If you have damages related to sewn or heat welded parts, we recommend reaching out to the footwear manufacturer for their warranty policy.
Should I send my shoes to you?

Click to open/close
We process all claims through our online warranty tool. Here, you'll be walked through a few easy steps to identify the parts you need and the directions to repair them. You can even upload a photo. Once identified, we'll ship you a free repair kit, and you'll be good to go.  
Do you sell shoes?
Click to open/close
We're proud to partner with leading brands to make the world's best gear even better. While we don't sell products directly, you can explore BOA products on our website and click through to purchase from the brand.
How can I contact you about a warranty or product question?

Click to open/close
We're happy to help with product questions or warranty claims. You can contact our Americas team by email at [email protected] or by phone at +1 303 455 5126. Our office hours are Monday - Friday 9-5pm MST. For other regions, visit the contact us page for more information.
I'm interested in working with Boa. How can I contact you?
Click to open/close
We regularly receive calls, emails, and social posts beginning with, "Your system would be great on..." It's this enthusiasm and passion for innovation that gets us excited – and confirms we're doing something truly meaningful. You can contact us at [email protected]